WASHINGTON – Today, Scott Brown, chair of the Competitiveness Coalition, blasted U.S. Representative Ken Buck (R-CO) for missing key congressional votes in order to attend the Antitrust, Regulation & the Political Economy Conference in Brussels, Belgium:
"What in the world happened to so-called conservative hero Ken Buck? While the House GOP is voting on important measures to tackle inflation, Buck is hobnobbing with European elites and anti-capitalists while sipping high-end champagne. Buck is apparently more interested in hawking his book and pushing his misguided antitrust agenda than representing the good people of Colorado's fourth congressional district. Conservatives should fight the left's effort to make America look more like Europe, especially with an ascendant China hellbent on global domination. Instead Ken Buck is palling around with some of the worst offenders in the Biden Administration's never-ending push for more government regulations to weaken our economy and global competitiveness."
While in Europe, Buck was absent from yesterday's vote on the "Reduce Exacerbated Inflation Negatively Impacting the Nation Act," a bill to help slow inflation caused by harmful Washington policies. Buck also missed the last vote of the day on Tuesday, February 28, which was a joint resolution to nullify the Department of Labor's new rule permitting retirement plan fiduciaries to consider climate change and other environmental, social and governance (ESG) factors when selecting investments and exercising shareholder rights.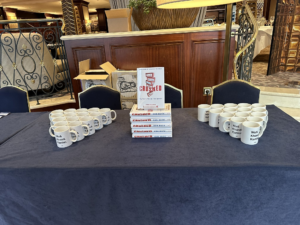 Prior to chairing the coalition, Brown served as Ambassador to New Zealand from 2017-2020 and United States Senator from Massachusetts (2010-2013).
For more information, please visit competitivenesscoalition.com. Members of the press can contact the coalition at press@competitivenesscoalition.com.
###
The Competitiveness Coalition is a first-of-its-kind group educating the public and advocating for policies that put consumers first while fostering innovation and attracting new investment.